Do my bonus have an expiry date?
***For mBTC users – all references to USD will be calculated with the mBTC market equivalent***
We've got a lot of promos and bonuses. And yes, all of them have an expiry date.
Unless otherwise listed, most bonuses allow you 6 months to use them or meet the Rollover/Playthrough requirements. The bonus along with its winnings will be considered forfeit if you go past the deadline without meeting the requirements.
The expiration date on a bonus is easy to locate and can be found under the bonus name, or in the Bonus description of any Active Bonus.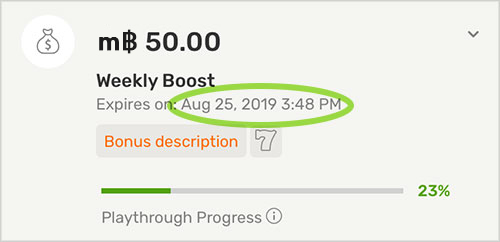 RELATED TOPICS:
Did you find what you were looking for?