Where can I find more information about Ignition Rewards?
You join the Ignition Rewards program as soon as you join.
You get special benefits based on the tier you're in. You can climb the tiers to earn Ignition Miles that you redeem for bonuses, tournament tickets, and much more.
Not enough? We deliver cash back on all your daily losses.
Find more information on the Ignition Rewards page.
You can also check on your current tier as well as the Ignition Miles you've earned by visiting your Rewards dashboard.
1. Click the profile icon at the top of the page.

2. Once in your dashboard, click 'Rewards'.
3. At the top of your Rewards Dashboard you can check your current status in our Ignition Rewards Program, including:
Your current Tier level and the points range needed to achieve it.
Your total Tier Points earned to date including a meter to represent how close you are to the next level.
A drop-down menu that, once expanded will tell you what to expect once you hit the next level.
A summary of how many Ignition Miles you've earned and how much they're worth in bonus funds. To redeem them, simply click, 'Get My Bonus'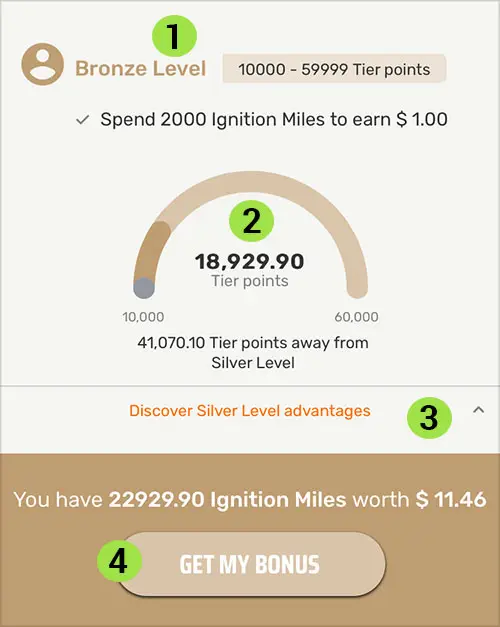 RELATED TOPICS:
Did you find what you were looking for?