How do I request a withdrawal?
This short how-to video will show you how to withdraw your hard-earned winnings. Or you can simply follow the step-by-step instructions below.
1. After logging into your account, click the profile icon at the top of the screen.

2. From the following window, click 'Withdraw'

3. Click your chosen method of payment from the list of available options.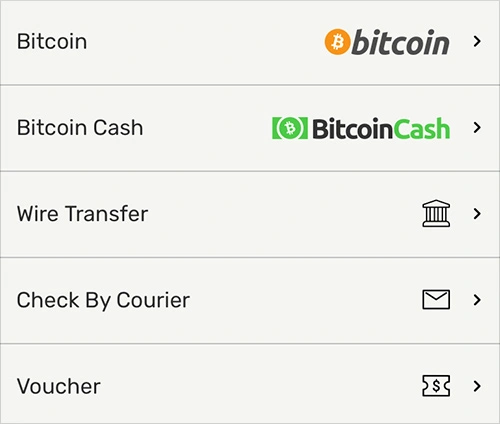 4. Enter your desired amount and any required information, then click 'Request Withdrawal'.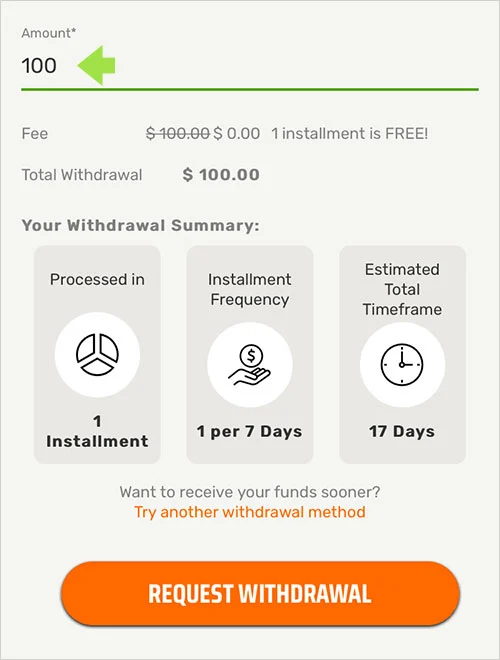 5. Once your request is submitted, you will be presented a confirmation screen along with your unique reference number.

6. Now you'll receive a text message with a verification code to ensure you made this withdrawal request. You'll need to use this code to complete your transaction.
Be sure to check the details of your payment method so you know when to expect notification of approval and delivery of the funds.
Before you cash out your winnings, here are a few things to remember:
The amount of your withdrawal request is deducted from your account balance immediately for the review stage.
Withdrawals are processed on a first-come, first-served basis and take approximately 24-48 hours to be reviewed. With Bitcoin, Player Transfer and Voucher takes about 24 hours for approval.
Delivery time frames vary depending on your method of withdrawal and can be viewed on the withdrawal screen for each method.
We're unable to ship a check by courier withdrawal to a P.O. Box or military address. Double-check your address on file to avoid any delivery delays.
You're entitled to one free Check by Courier withdrawal every 90 days. A $100 processing fee will be charged for each additional withdrawal within the same 90-day time period.
Checks requests exceeding $3,000 will be sent incrementally every 7 days until you are fully paid out.
Cryptocurrency (BTC, BCH, etc.) requests exceeding the maximum per transaction, will be sent incrementally every 3 days until you are fully paid out.
Should you lose or misplace your check, a STOP PAYMENT fee of $40 may be charged before the funds are returned to your account. Deposit your check as soon as possible as it may become non-cashable after some time. The STOP PAYMENT option is unavailable on checks older than 6 months.
Withdrawals via Cryptocurrency will not be processed until all deposit transactions have been confirmed.
Per our Terms of Service, before we process your withdrawal, you may be required to verify your registered information by sending us a scan or picture of one or more of the following:
A government-issued photo ID.
A proof of address, such as a utility bill dated within the last 60 days clearly showing the address you've entered as your own.
A Credit Card Verification Form.
The front and back of a particular credit or debit card you've used on our site.
Send those items in JPEG or PDF format to verification@ignitioncasino.eu and they'll be reviewed in approximately 24-48 hours, sometimes less. Once your information is verified, we'll begin processing your withdrawal for delivery.
IMPORTANT REMINDER:
All deposits

must

be wagered completely before any winnings can be withdrawn. By not meeting this requirement, your withdrawal may be subject to cancelation at the discretion of our Withdrawals Team and return of funds to your account balance.

Exceptions will be made for peer-to-peer methods such as

Player Transfer

.

MatchPay

and

Vouchers

- when there is a re-deposit, in whole or in part of a previous withdrawal.
RELATED TOPICS:
Did you find what you were looking for?