Special Features
Rev it up with our latest Poker Features. We're always improving and upgrading our software so you can focus on the good stuff and get the most out of your Ignition Casino experience. There's always something new to look forward to at Ignition Casino Poker, so keep checking in to get in on all the newest gaming features and tweaks. Here's a roundup of the latest:
Quick Seat
Online poker has never been hotter with Ignition Casino's new Quick Seat feature, which allows players to land at a cash game table faster and easier than ever before. Find out more about the Quick Seat feature.
Mobile Poker
With our mobile poker feature, you can play on the move— anytime, anywhere. All you need to do is make sure you've got your smartphone or tablet handy and visit our free mobile site to get started. Heat things up with the best in online poker, and the best part is that it's all available at your fingertips. Don't waste another second, find out more about Ignition Casino Mobile Poker today.
New Chat Feature
It's now easier then ever to communicate with our new poker chat application: Choose from several emojis and pre-defined phrases which automatically get translated into all supported languages – plus you also have the option to mute players or entire games. Give it a try!
Zone Poker
Get in on all the fast-paced Zone Poker action you can handle with your mobile device. This format of poker cuts the time spent waiting for your folded hands to end and new cards to be dealt, which means the action is instantaneous. The second you fold at a Zone Poker table, you'll immediately be redirected to a new table with new players and new cards. This way, you'll be able to see more cards and play more hands in no time at all. Read more about Zone Poker.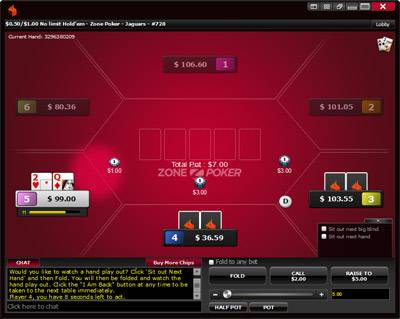 Anonymous Tables
Rev up the action with total anonymity when you hit up our online poker tables. With this feature, Ignition Casino players can hit the felt totally incognito, which means that when you sit down at a table, your opponents will be clueless about who you are and how you play. This really evens out the playing field at the start of every new game— just like in a live casino environment, where take to the tables against anonymous strangers. Read more about our Anonymous Tables.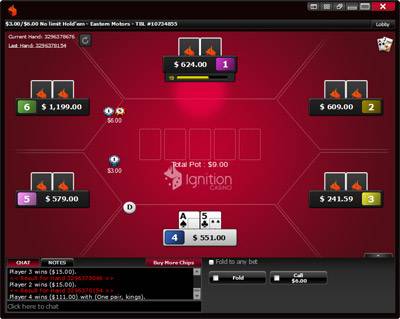 All-In percentage feature
How are your chances of winning the main pot looking? If you go all-in on a hand, a percentage bar will pop up under the cards to give you an indication of the probability of a win. The percentages appear as soon as the cards are shown and will be updated after each action.
Select Your Card Design
Spice up the action with our selection of card designs. You can now play according to your style and gaming aesthetics by choosing one of our exciting designs to customize your cards. All you need to do is pick your cards under MC->Setting->Table setting, and use the preview option to pick your ideal design.
Customize Your Table
Play your way by updating the look and feel of your table to enhance the playing environment. With our customizable table skins, you can choose from six colors to add a personal touch to your table: red, blue, green, orange and magenta. Select Settings ->Table Settings and use the preview option to browse your options.
Multiple Language Software
Since Poker is the kind of game that's enjoyed the world over, we're letting you pick the language you're most comfortable with. Ignition Casino Poker is available in English, Spanish, Simplified Chinese, Thai, and Japanese.
Card Animation
There's nothing like a bit of animation to really enhance your gameplay. With Ignition Casino's card animation feature, you can spice up your screen time with flaming or electrified cards whenever you land a big hand. It's just another way to make your poker experience all the more thrilling while you're hitting the felt and raking in all those pots.
Hand History Viewer
Check out your past hands as they develop, especially if you want to relive all the action, which you can do easily with our hand history viewer. This brilliant feature will let you revisit old hands and watch the action unfold in front of your very eyes for a second time. With fast-forward and rewind buttons, you'll have complete control over your viewing experience. The viewer is an especially useful tool if you want to up your game and analyze your own style. The viewer is available for Cash Games, STT's and MTT's. Activate the hand history viewer directly from the table you're playing at or from the hand history details page.
Fully Downloadable Complete Hand Histories
With this great feature, you can view everyone's hole cards from previous poker sessions. Full hand histories will be available to download 24 hours after the conclusion of a scheduled tournament, Sit and Go, or cash game pot. The hole cards of all players will be revealed regardless of whether they played the hand or not, which only offers added insight into how the previous hands unfolded. It's a great way to get to know the game better and improve your own strategy.
Instant Heads-Up Rematch
Got an opponent you really enjoy playing against? Well, you can keep the competition going thanks to Ignition Casino's Instant Heads-Up Rematch feature. With this feature, you and your rival can return to the same table and dive back into the piping hot action. As soon as a Heads-Up match is over, you'll be given the option to rematch your opponent, which will start a new Heads-Up game.
Multi Entries for Zone Poker
For a more exciting and fulfilling Zone Poker experience, you can now play two entries at the same time in a single player pool. Buy in to a Zone Poker table and we'll give you the option of playing one or two entries.
Single Session Player Notes
Gain the upper hand by analyzing and studying your opponent's plays and strategies. With player notes, you can jot down your insights during a tournament, Sit and go or cash game.
Rabbit Cam
Ever wondered what the next card would've been? With our Rabbit Cam feature, you can see what the next card dealt would've been when a hand completes after the flop or the turn, but before the river has been dealt. If a hand completes after the flop, the turn card will be shown. If it completes after the turn, the river card will be shown.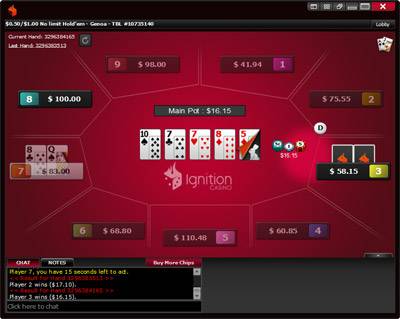 Play More Tournaments
You can play anywhere from one to 20 tournaments— it's now entirely up to you. You can still play up to four Cash and Sit and Go Tournament tables simultaneously, but you can now play even more Multi-Table Tournaments at the same time, all up to 20 total tables.
In-Software Casino Games
Get into the action right away and without any fuss with Ignition Casino's poker software. Your favorite games will all be available right at your fingertips. You'll find a world of options built directly into the poker software, and you can pick from a huge selection of 3D, video and progressive slots; blackjack, roulette, video poker, specialty games and so much more.